Phase one of the massive development is expected to cost £280m. It will include 530 homes for qualifying university and college staff, 450 homes for sale through residential developers and accommodation for 300 students.
The development also includes substantial landscaping with over a third of the overall site dedicated to both formal and informal green space.
Pro-Vice-Chancellor Jeremy Sanders welcomed the decision. "The North West Cambridge development is a major part of the University's long term future.
"It will provide much of the residential and research accommodation that the University needs as it grows over the next 20 years.
Last August the three local authorities involved resolved to grant outline planning permission for a mixed-use development on the 150-hectare site of University-owned farmland, subject to the signing of a Section 106 legal agreement, planning conditions and  reserved matters approvals.
Roger Taylor, project director of the North West Cambridge Development said: "North West Cambridge is the largest development in the country to be built to the Code for Sustainable Homes Level 5 and BREEAM Excellent for other uses.
The ambition to create a low-carbon community incorporates a Green travel plan and energy and utilities systems – the development will be an exemplar of sustainable living."
Subject to the approval by the local planning authorities, work on infrastructure will start later in 2013, and the first buildings will be completed from late 2015.
Eventually, the development will include 2,000 student bedrooms and 1 million sq ft of academic, research and commercial space and is expected to be phased over the next 10 years.
Former Olympic Village operations director Gavin Heaphy is construction director for the executive team acting on behalf of the University Estate department on the huge project.
The swathe of land bounded by the M11 was originally released from the Green Belt to meet the University's housing, student and employment needs and 50% of the approved properties will be affordable for University key workers.
The development will also provide around 35 hectares of open space, in addition to sports pitches, children's play spaces, and allotments and it will give public access to the new sports centre on the neighbouring West Cambridge Site.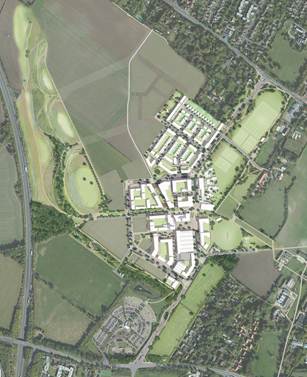 The first phase of the North West Cambridge development