Consultants KPMG have scruntinised the country's leading 14 contractors and concluded a fresh round of streamlining and cost efficiency measures will be needed to ride out the downturn.
The management experts analysed the contractors' accounts and performamce since the credit crunch for KPMG's influential Construction Barometer report.
The work found the leading firms managed to raise margins since 2008 by extracting extra value from their supply chains. But since 2010 the firms have suffered a severe eroding of margins prompting the call for action.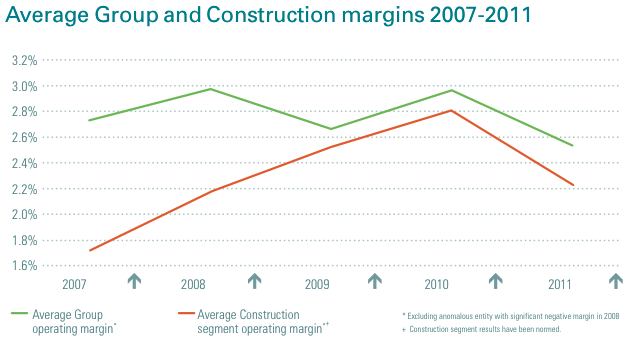 Richard Threlfall, KPMG's Head of Infrastructure, Building and Construction, said: "Our analysis reveals that the industry did well to anticipate the downturn and take out cost in the early years of recession, even managing to drive up margins in the short term.
"However, those measures are now proving insufficient to offset the acute reduction in volumes of new work.
"Just a quick look at the development of margins in the last two years confirms the urgent need for further cost efficiency and restructuring across the industry."
Threlfall warned: "Unless action is taken now the thin margins of 2007 will seem generous by comparison to what the industry may be facing.
"Since 2010 there has been a scramble in the industry to stem the collapse of forward order books, underpinned by deliberate profit-sacrifice," he said.
"This has resulted in a steady fall in the average construction margin, with early indications being that 2012 results are not likely to buck this trend."
To help survive the crunch, the consultants have produced a set of management survival plan
KPMG contractor survival plan

• Cost efficiency transformation programmes at group, divisional and project levels
• Restructuring, both from an organisational and financing perspective
• Pricing and bidding strategies that focus on true value drivers of end-clients
• Project value engineering
• Diversification into new markets and geographies
• Increased consolidation and joint ventures to facilitate access into specialised sectors
• Re-focussing on growth sectors such as energy and transport infrastructure.