The two incinerators will be built within a mile of each other. The first being developed by Veolia Environmental Services will burn household waste and is to be located at a site in Cross Green.
The £125m energy from waste facility will be a largely glazed and timber frame building, which has been dubbed, the greenhouse. The 8-storey building will generate enough electricity for 20,000 houses.
Works are expected to start at the end of this summer on a 36-month progarmme.
Another waste operator Biffa also got the go-ahead to build a £200m incinerator for industrial and commercial waste at the former Skelton Grange power station near Stourton.
This will generate electricity for 52,000 households from burning commercial waste that currently goes to landfill.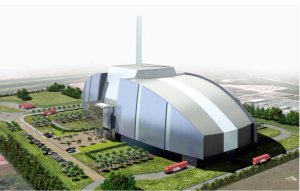 Biffa's plant at Skelton Grange
Councillor Mark Dobson said: "This decision has been years in the making. I've said frequently that we can't afford to continue to bury waste in the ground on financial or environmental grounds."