Work will get underway shortly on the Highmead site, subject to the Section 106 agreements being met.
Working with Enfield Council and Newlon Housing Trust, Countryside Properties was selected in 2011 as developer for the 0.6 hectare project.
The revised scheme now includes 118 homes, of which 40% will be affordable, together with  a medical centre and a community building and some offices.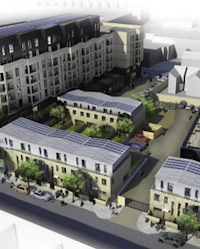 A phased demolition of the site, which included an 11-storey 1960s tower block and a parade of shops, started last year with remaining demolition works are due to commence shortly.
Richard Cherry, deputy chairman at Countryside Properties, said: "The demolition of the former estate is now well underway and we are starting to prepare the site to build.
"It is great news that we now know for certain what will be built and we are confident that the new homes will be popular with the residents. They are well designed and we will be building a community where people genuinely want to live."
The project is being handled through Countryside's North Thames office based in Brentwood, Essex.