The project will transform this part of the site, including the refurbishment and renewal of the 1960s buildings, and construction of a glass pavilion that will alter the river skyline.
The designer of the proposal is Feilden Clegg Bradley Studios will will now work up the details of the scheme to improve facilities and walkways.
Once this is complete an application for planning approval will go in with the aim of close the existing venues later next year for a 2-3 year construction programme.
The new-look Festival Wing will then be reopened in 2017.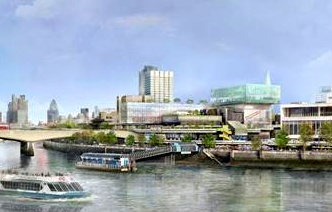 Alan Bishop, chief executive of Southbank Centre, said: "Feilden Clegg Bradley Studios have magnificently responded to our vision for this part of the site with a design that refurbishes and maximises the potential of the Queen Elizabeth Hall, Purcell Room and Hayward Gallery, while also creating major new glazed spaces that contrast with and complement the existing buildings.
"Having successfully delivered the wonderful transformation of the Royal Festival Hall in 2007, we are in an excellent position to deliver these plans and we are extremely grateful to the Arts Council England, which has enabled us to embark on this project following the successful first-stage application for £20m of capital funding in March 2012."