A near 13% fall in new work output drove the overall decline after large falls in public building and private office building.
There was also a 5.3% decrease in repair & maintenance, mainly due to a big fall in private housing repair and maintenance.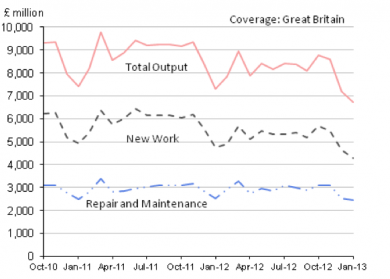 New public housing work fell 20.4% to just £216m and now accounts for just 3% of construction output.
The move volatile monthly figure for total output in January alone was 6.3% lower than in December and 7.9% lower than it was one year ago.
Latest figures for the rolling 12-months showed new output fell 8% compared to the previous year.
Steve McGuckin, UK managing director of the global programme management consultancy Turner & Townsend, said: "Sadly the momentum of the last quarter of 2012 has not been maintained, and the construction sector risks being recast as the fall guy of the British economy.
"Across all construction sectors, output is down once again, with the fall in infrastructure work particularly worrying.
"The government's hopes of the private sector pumping desperately needed money into infrastructure and helping the economy build its way to recovery look further away by the day."
He added: "Q4's brief uptick in total construction output is starting to look like a blip, possibly boosted by projects put on hold during the Olympics and restarted at the end of the year. Shorn of that temporary boost, January's figures look much less encouraging.
"But for all that, sentiment is improving. We've seen brisk levels of activity at the very front end of the industry, particularly in Scotland and Ireland.
"The upbeat tone owes more to fatalism than confidence. While no one expects the sector to take off with a hockey stick recovery, there is a growing sense that things have at least bottomed out," he added.
"This pragmatism is finally persuading some developers to stop sitting on their hands and start moving again.
"But progress is clearly going to be slow, and a long road lies ahead."