The firm was working on a relatively small residential site preparing foundations for an apartment block with planning for up to seven storeys.
At 10 am last Friday trains running in the underground tunnel from Moorgate were suspended when a driver reported muddy water pouring onto the roof of his train north of Old Street station.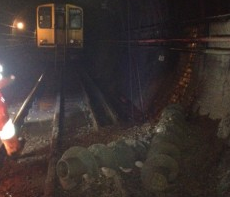 An empty train with another driver and a Network Rail manager were sent to investigate. As they neared the point from which the water was gushing, a piling drill from the building site above the tunnel broke through the roof and crashed onto the line.
The driver told the control room: "There was a tremendous amount of flashing… like a huge Roman candle."
Engineers from Network Rail worked around the clock at the weekend to seal the roof with a metre-thick concrete plug.
More than two million passengers a year are carried on the busy Northern City line from Moorgate to Welwyn Garden City.
A source at piling firm All Foundations said: "We were piling as was set out in the plans and have no other comment."
The owner of North London developer Andrew Towns-Wadey (Builders) said: "The matter has been passed to the insurers. We had planned to build a residential development on the site, but obviously everything has been suspended."
The HSE is now investigating the incident along with the British Transport Police and The Rail Accident Investigation Branch.
Planning documents relating to the site at 99 East Road revealed that during earlier ground investigation one of two test 20m bore holes was stopped at 14m when it hit a man-made obstacle.
The ground investigation report speculated that the structure possibly related to the London sewer network as there were no London Underground lines in close proximity to the site.