The house builder was responsible for building the vast 256m long station box and last month handed it over to Crossrail four months ahead of schedule.
It will now press ahead with plans to build close to 600 apartments over six blocks of varying heights, tenure and use over the site.
The initial two-building over-station element has been designed by PRP in 10-storey and 2o-storey blocks. These will contain 219 homes situated within the Royal Arsenal Conservation Area and bounded by numerous listed buildings.
John Anderson, chairman from Berkeley Homes said: "The submitted proposals for Blocks C and D support our aspiration to deliver a cohesive, high quality, mixed use scheme within one of the most prominent phases of the Royal Arsenal master plan."
Richard Harvey Director at PRP said: "This phase of the Royal Arsenal Riverside will both physically and visibly contribute to the overall regeneration of the wider area, becoming a landmark for the new Crossrail development and raising aspiration with the provision of high quality mixed tenure homes in South East London."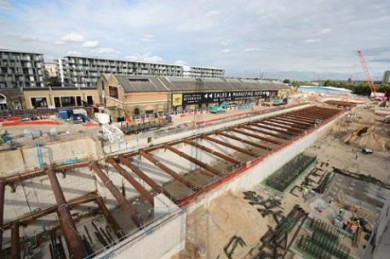 The new station box is 256m long, 26m wide and 18m deep – equivalent to the size of 32 Olympic swimming pools.