Last month it emerged Spanish firm Iridium Concesiones de Infraestructuras had dropped out and now Laing O'Rourke has pulled out of the running.
North Tees and Hartlepool NHS Foundation Trust's confirmed that only Brookfield Multiplex has submitted an initial bid to design, construct and operate its new hospital at Wynyard Business Park.
Bosses at the trust aim to fund the superhospital from pension fund loans, the first time this route has been used in the UK.
Chief executive of North Tees and Hartlepool NHS Foundation Trust Alan Foster said: "It's not unusual for schemes to be working with one bidder at this stage, especially in the current financial climate.
"Brookfield Multiplex is as committed as we are to providing a world class facility at an affordable price that will be a lasting legacy for future generations.
"As well as satisfying ourselves that the scheme is right for this area and affordable, we are also providing as much information as we can to our regulator, the Department of Health and the Treasury so they can be satisfied at this stage that the scheme is deliverable."
The trust will work closely with Brookfield Multiplex in the coming months to refine the design and ensure their final bid represents value for money. The new hospital is planned to open its doors in 2017.
A funding competition will run in parallel to identify the best terms available to fund the scheme.
Trust board chairman Paul Garvin described the funding approach as similar to taking out a mortgage.
He said: "We borrow the money, we build the building, and we pay it back year on year."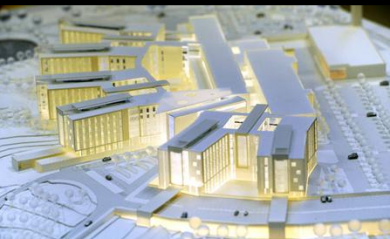 The project is a smaller-scale version of the original £460m plan, which was scrapped, along with 12 others nationwide, in June 2010 as part of measures by the coalition government to save £2bn.
A PFI project could have cost £660m over the 30-year life of the scheme.
The bid process is expected to take a further 14 months. After that the Trust board will decide whether to borrow the cash to begin the build.
Commercial director of Brookfield Multiplex Paul Serkis added: "After having worked with the health professionals and support staff at the trust over the past few months during the dialogue stage we now share their vision to provide world class services in a world class facility and the Brookfield Multiplex team is totally committed to building a superb hospital of which the area will be proud."
James Wharton, Conservative MP for Stockton South, said it was a positive step the trust had received an initial bid.
But he added: "It's a cause for concern that it appears some bidders have decided that they can't make the figures stack up."