The latest RICS construction market survey revealed that in the first three months of the year, 10% more surveyors across the country reported rising workloads albeit from a very low base.
One of the main drivers behind this was the boost in private housing construction, which suggests that some of the government initiatives are quietly beginning to breathe life back into parts of the nation's property sector.
Surveyors in London, the South East and the Midlands saw increases in construction, but Northern Ireland and Scotland continue to see workloads slip.
Looking ahead, surveyors expect the trend to continue despite fears about the stagnating general economy.
A net balance of 27% more respondents expect workloads to rise over the coming twelve months. It would appear that at long last, a little bit of confidence is gradually returning to the industry.
The increase in construction projects and the expectation of further gains, however limited, resulted in a welcome rise in job expectations.
Now 22% more chartered surveyors anticipate employment levels rising over the coming year but the profit outlook is projected to remain depressed.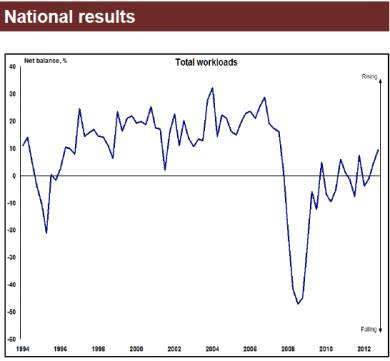 Simon Rubinsohn, RICS Chief Economist, said: "Although it's far too early to start talking about a recovery in the construction sector, the rise in output at the beginning of the year is a little better news.
"The government's attempts to stimulate the market seem now to be having some impact but there are still significant challenges to be overcome. In particular, the availability of finance and planning related issues continue to present obstacles to development"
Surveyors still fearful of cash squeeze
Brian Austin, at Balfour Beatty Engineering Services in London said: "Requirement to provide bids with fully fixed price for the duration of long running projects becoming of increasing concern as it is expected that inflation will be greater than clients want to see in fixed price additions.
"A number of clients and professionals working for them are being unreasonable in their insistence on applying unfair contract terms with no negotiation in order to obtain a commercial advantage."
Brian Boys at B & E Boys in Lancashire warned: "Margins are unrealistically tight. There has to be a change in this area. In addition, clients are becoming more demanding. There are instances of clients not wanting to release final payment based upon really minor issues to aid their own cash flow."
Philip J Hodges of Ridgeways in Redditch said: "We are seeing very mixed messages in the market at present.
"Certain areas of work such as budget and top quality hotels, defence works and fast foods seem to be on the up yet other areas of work remain flat if not on a downward slope still.
"Contractors and professionals are similarly either flat out or suffering, dependant on the type of work they are 'into' or have marketed for in the past."