Independent utility dealer Capital Plant Solutions secured the order for two DD14 and four DD25w rollers.
Director Martin Lavery said: "The main reason was in response to a demand for double drum rollers from our customers followed closely by a very competitive package on offer from Volvo and Capital Plant Solutions."
The rollers join John F Hunt Hire Centres' self-drive hire fleet  based at the company's three hire centre outlets around Greater London and Essex.
Road roller specs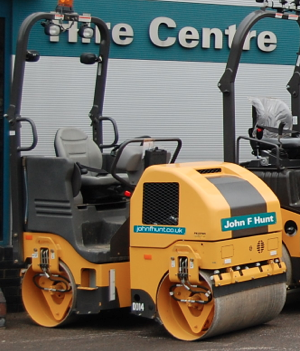 The Volvo DD25w double drum compactor weighs in at 2.6 tonnes and features a drum width of 1.2 m. The smaller DD14 sports a drum width of 900mm and operating weight of 1.5 tonnes.
The drums feature dual frequencies operating at either 55Hz or 67 Hz for optimal impact and delivering nominal amplitude of 53 mm on the DD25w and 37mm on the DD14.
A pressurized water feed system is directed via four nozzles per drum working in conjunction with spring loaded, self adjusting urethane wipers.
A closed loop hydrostatic drive system delivers seamless direction changes and a maximum speed of 10 kph.
The machined drum surface with radiused and chamfered edges help produce a quality finish on each job.