London Legacy Development Corporation's planning committee granted permission for the original structure to be transformed into a 60,000-seater venue with a capacity of 80,000 for concerts.
The multi-purpose venue, which has Premier League club West Ham United confirmed as an anchor tenant, will host Rugby World Cup 2015 matches and the 2017 World Athletics Championships.
Subject to a referral to the Mayor of London, work will begin later this year on the proposed alterations.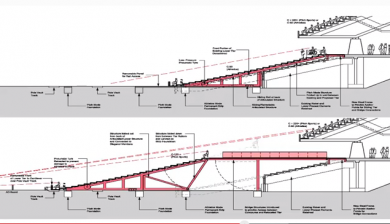 The stadium will boast the world's largest spanning tensile roof at 84m, which will cover every seat and make the stadium "intimate and enclosed"
Conversion plans will also involve a seating bridge between the upper and lower tiers on the East side to create a large "Kop" style stand.
The 54,000-seater ground will also include 995 toilets and multiple food kiosks which were outside during the Olympics.
Traditional turnstiles will also be installed nearer the stadium rather than remoter access points which operated during the 2012 Games.
A host of big names are lining-up for the £150m conversion contract despite Sir Robert McAlpine's strong claims as original builder.
McAlpine-led Team Stadium also included Populous as the architect and Buro Happold as the designer of the civils, structural and building services work on the 2012 stadium.
Populous is already on board as architect for the shell-and-core conversion contract.
Dennis Hone, Legacy Corporation chief executive, said: "This is an important milestone that paves the way for the Stadium's intended legacy use as an all-year-round venue.
"As we prepare for the phased re-opening of Queen Elizabeth Olympic Park this summer, with the long-term future of all eight permanent venues on the Park now secure, we remain firmly on track to deliver a meaningful physical and social legacy for Londoners."
Sir Robin Wales, Mayor of Newham, said:"This is fantastic news and we will work hard to make sure our residents have access to the jobs created by the construction project as well the Stadium itself once it opens. Queen Elizabeth Olympic Park is beginning to take shape and the progress that's been made so far is impressive."