The job is estimated to have cost the country's biggest steelwork firm at least £10m as the complex structure proved a bigger challenge than its estimators first imagined.
Despite the set-back for Severfield, the Leadenhall Building, as it is officially known, has been hailed for raising the bar in high rise construction techniques in the Capital.
Up to 85% of the structure by construction value has been manufactured off-site, a UK skyscraper record.
The job also stands out as Laing O'Rourke's first major high rise contract and Chinese curtain walling contractor Yuanda's debut project in the UK.
The building job got underway in September 2011 and is expected to finish in the summer of 2014.
Its striking architectural design incorporates 18,000 tonnes of steel and 70,000 sq m of cladding.
Unusually for a tall building, The Leadenhall Building has no central core, with the external steel mega frame providing the lateral stability and the 26 passenger lifts housed in the building's Northern Core, painted bright yellow, at the rear of the building.
As well as being the newest addition to London's skyline, The Leadenhall Building will be part of the City's fabric at ground level, creating a half acre, seven storey galleria which will include formal lawns, mature trees, shops and an events space for the public.
The Mayor of London, Boris Johnson, said: "The Leadenhall Building is the latest landmark to grace London's iconic skyline, demonstrating our city's ability to design and construct world-class architecture.
This ambitious project has created jobs in London and elsewhere across the UK supporting great British manufacturing all over the country. The building's soaring pinnacle symbolises the confidence in London's status as a global centre of finance and trade."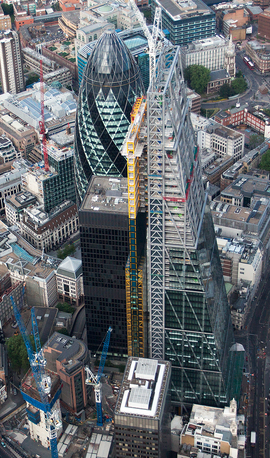 Designed by Graham Stirk, partner at Rogers Stirk Harbour + Partners, the building's distinctive tapered profile has been designed to protect the sight line of St Paul's Cathedral.
A year ahead of its completion the building is 51% pre-let, following commitments with international insurance company Aon, which will relocate its head office to the building from Chicago, and specialist underwriter Amlin.