Married father-of-one Tony Causby, 42, from Leigh, was helping to dismantle scaffolding in Skelmersdale when he stepped onto a fragile skylight and fell to the floor below.
Atherton-based S&S Scaffolding Ltd was prosecuted by the HSE following an investigation into the incident at the warehouse on Pennine Way on 14 December 2010.
Liverpool Crown Court heard Causby had helped to erect the scaffolding at the end of October ahead of work to replace damaged cladding and guttering on the roof.
He returned to the site on 14 December as part of the dismantling team, although he was employed by S&S Scaffolding as a labourer rather than a scaffolder.
He had just returned to the roof with another labourer after his lunch break when he stepped on a skylight, which broke and gave way. He was taken to hospital where he was pronounced dead.
The court was told there were around 80 fragile skylights on one half of the roof, with each one measuring about one metre by two metres.
The company failed to arrange for covers to be put on the skylights nearest to where its employees were working to prevent them falling through.
S&S Scaffolding Ltd of Atherton, Greater Manchester pleaded guilty to safety breaches and was fined £75,000 and ordered to pay £31,517 in prosecution costs.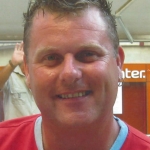 Tony Causby
Causby's partner, Debra Wyley, 44, said: "It is difficult to put into words how Tony's death has affected our lives. I feel our son is missing out on so many things that his dad would have done with him, like football, rugby and taking him swimming.
"I started having panic attacks and wouldn't go out because I felt people were looking at me because of what had happened. I rarely go out to socialise and hate mixing with other families and attending family dos.
"I miss Tony so much. He was such a big part of our lives and was very close to my family. He often did jobs for them – even my mum and dad who live in Spain."
Speaking after the hearing, HSE Inspector Jacqueline Western said: "Mr Causby died because S&S Scaffolding didn't do enough to protect him from the risks of working at height, despite being a specialist scaffolding firm and being fully aware of the dangers of falls.
"It would have been relatively easy to cover the fragile skylights near to where the employees were working to prevent anyone from falling through if they accidently stepped on one.
"Alternatively, netting or crash mats could have been provided under the skylights to reduce the chance of a worker being injured if they fell."