The scheme by architect Make has been dubbed "Gotham City".
It ranges in height from seven to 34 storeys and includes 82,600m² of office space and 2,000m² of shops.
The plans go on public exhibition in the Square Mile today ahead of an application being submitted later this month.
The professional team includes: EC Harris as cost consultant, WSP acting as structural engineer and Waterman as environmental consultant.
The site will employ 390 construction workers.
Geoff Harris, Director of Property Development, Henderson Global Investors, said: "We are proposing a scheme which will fit in with the rich urban character of streets and spaces of EC3 with tall towers and lower rise blocks, primary thoroughfares, hidden alleyways and discreet public spaces.
"Make has designed a great building in a location which can accommodate a tall building but which varies in height from 7 to 34 stories to respect local and strategic views."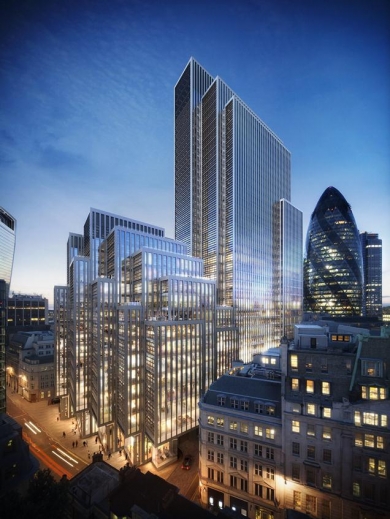 Image courtesy of DBOX for Henderson Global Investors and MAKE