Sovereign Land proposes to nearly double the size of the 1m sq ft Telford Shopping Centre with an extra 400,000 sq ft of retail and 250,000 sq ft of restaurants, as well as a cinema and hotel.
Work on the first phase of the development – the Northern Quarter – now looks set to start as early as Spring next year when ASDA relocates to its new store nearby.
It is estimated that the development will create more than 1,000 construction jobs.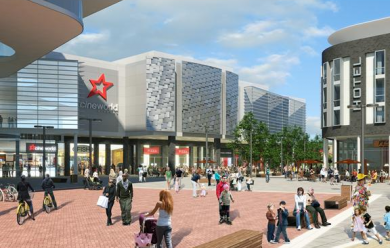 Sovereign Land chairman Tim Binnington said: "Our proposals represent a major commercial redevelopment opportunity that will help to transform Telford into a regional retail and leisure destination.
"More than that, they are a vital part of a strategy for creating a new future for one of the UK's important New Towns.
"Over the years, the town centre has evolved piecemeal and parts of it are showing their age. We now want to take the town forward to the next stage with a considered, planned regeneration strategy."
He added: "Telford & Wrekin Council is already making great strides – having successfully turned Telford into one of the fastest growing towns in the UK, initiated the £250m Southwater leisure and civic development on a site adjacent to the shopping centre and have exciting plans for residential, school and transport renewal.
Designed by architects Benoy, the masterplan flags four key areas for redevelopment – the Northern Quarter site, Central Square, the Southern Quarter and the Bus Station.
GL Hearn are planning consultants.