Brighton Magistrates' Court heard how Andrew Wood from East Sussex developed a painful and debilitating nerve condition through prolonged use of vibrating power tools.
He also took photos of unsafe practices on sites run by C J Gowing and Son Ltd between July 2010 and March 2012.
The family-run construction contractor was prosecuted after an investigation found there was no control of vibration risks and no health surveillance.
The firm also allowed unsafe work at height and failed to support the sides of a deep excavation, which could have collapsed – as revealed in photographs taken by Wood.
Brighton Magistrates' Court heard that his work for C J Gowing and Son involved extensive use of vibrating power tools, including hydraulic breakers, to break out concrete floors and foundations.
A sensation of pins and needles in his hands intensified over time and by March 2012 the pain was so severe he was unable to sleep.
He was subsequently diagnosed with bilateral carpal tunnel syndrome, which required surgery.
Despite several operations he can no longer lift heavy objects or do everyday tasks like turn the pages of a book or open a bottle. The father of four is unable to work as a result.
The court was told that in his dealings with HSE, Wood provided photographs of other failings by the company, including images of a site foreman working from a pallet raised to a roof line by a forklift truck.
Both these and his photos of an unsupported excavation were accepted as evidence of further safety breaches.
C J Gowing and Son Ltd, of Blackboys, East Sussex, pleaded guilty to six safety breaches and was fined a total of £45,000 and ordered to pay a further £4,670 in costs.
After the hearing HSE Inspector Amanda Huff said: "Carpal tunnel syndrome is a painful and debilitating condition that Mr Wood need not have developed had his health and his use of vibrating tools been properly monitored and controlled.
"The onus is on employers like C J Gowing to fully consider the risks arising from prolonged use of equipment like hand held breakers, and to ensure their workforce is adequately protected.
"That didn't happen here and Mr Wood now faces a lifetime of discomfort."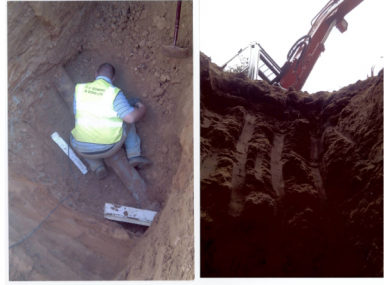 Shots of work in an unsupported trench