French-owned energy giant EDF is leading the consortium building the £16bn nuclear power station with significant financial backing from China.
The deal will see the Government guarantee to pay a strike price for electricity which is nearly double today's going wholesale rate.
The move will bring to an end over a year of delay, which has left contractors with teams on stand-by to mobilise.
Anna Stewart, Group Chief Executive for Laing O'Rourke, said: "This is a pivotal moment for the UK construction industry as we move forward with EDF towards mobilisation and the start of work on site."
"Hinkley Point C will open up a myriad of opportunities for employment, new skills and training, and engagement with the supply chain across the UK, but especially in the South West of England."
Once a Final Investment Decision is announced by EDF, contractors will move swiftly to establish site teams and commence work.
The new plant, scheduled to open in 10 years' time, will employ 25,000 people during its construction with 5,500 at peak.
The workforce will be housed in three campus sites with also offices for around 1,000 engineers and contractors.
EDF Energy and the principal contractors Laing O'Rourke/Bouygues have signed a Common Framework Agreement enshrining direct employment for workers on site.
It also sets a minimum craft rate of £13 an hour for civil engineering work and bonus payments to establish the job as the best-paid site in the UK.
Some 5 Tier One contracts have been let subject to contract a further 145 are to come.
Hinkley Point procurement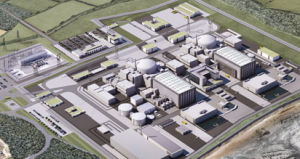 Civils contracts so far
Laing O'Rourke and Bouygues main civils build contract worth £2bn
Bam Nuttall and Kier has bagged the £100m earthworks contract
Balfour Beatty Civil Engineering the £30m job to build a temporary 500m jetty for construction materials to be shipped in.
Costain today sealed £250m marine works contract for three tunnels to channel seawater in and out of the plant.
Ancillary Buildings
The first package of this work is awaiting the issue of the invitation to tender, expected now during 2014.
Associated developments
Preferred bidders will be announced soon.
Campus Accommodation
Park & Rides
Combwich Wharf upgrades 
Cannington Bypass
Highways Improvements – Some of the highway improvement works have been started by Aggregate Industries (Bardon).
Other contracts
Main Electrical Erection – Tenders out early 2014 – ECI work expected late 2014
Small Power and Lighting – Tenders out 2014
BNI Mechanical Installation – Stage 1 tenders reviews in progress. ECI work to commence in Q4 2013.
HVAC supply and install – Tenders due out late 2013. ECI work expected 2014
Various Electrical Equipment – Tenders out 2014/2015
NSSS Design – Design work underway on Nuclear Steam Supply System – AREVA has been selected as the delivery partner for this package.
Main Turbines – Preferred bidder to be announced late 2013. ECI work to commence in Q4 2013.
Land area of and energy output from Hinkley Point C compared to other energy production sites.