The ambitious plan is set to trigger a race with three other developers also planning to build the first residential skyscrapers on or near Canary Wharf in London's Docklands.
Ryan Corporation is understood to have paid £100m for a site on West India Dock Quay, which previously had planning to build a hotel and office scheme, called the Columbus Tower.
The developer aims to build a 74-floor skyscraper on the site, which would be 7m taller than One Canada Square, Canary Wharf's highest office building at 235m.
It will shortly submit plans to Tower Hamlets for the new residential-led scheme to be known as the Hertsmere Tower.
Ryan will offer significant investment for social housing in nearby Poplar, Limehouse and the Isle of Dogs as part of the application.
The scheme is set to add urgency to rival developers' plans to get their schemes moving.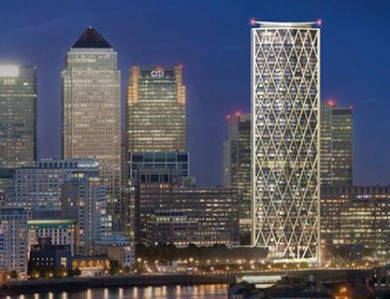 Developer Canary Wharf has lodged plans to build the Diamond Tower (above), a 58-floor luxury apartment block soaring 218m into the sky.
While Berkeley Homes has submitted a scoping report to planners at Tower Hamlets pushing the boundary with plans for an 80-storey main tower, with two other 35-floor and six floor buildings at  South Quay Plaza.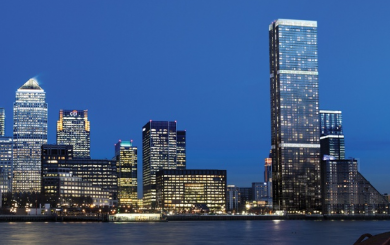 Developer Chalegrove Properties has consent for a 75-floor residential skyscraper (above).
Chalegrove's proposed 239m tower project will be mainly residential with 864 flats and 84 serviced apartments and is planned for the City Pride pub in Westferry Road, which will be demolished to make way for the new tower.