The apartments at the campus in Peel Park will provide 1,367 bedrooms with ensuite facilities and are targeted to achieve an 'Excellent' BREEAM rating.
Salford Village consortium – comprising investment companies Equitix and Kier Project Investment, Graham Investment Projects and student accommodation operator Campus Living Villages – is developing the property with project finance provided by Standard Life Investments.
Graham Construction will do the  building work while Campus Living Villages will run the development on behalf of the consortium when it opens to students in September 2015.
Along with its partners, the University is investing a total of £136m in the Salford campus over the next two and a half years.
Last month BAM Construction started building the state-of-the-art £55m 'Gateway Project' which will have a theatre, recording and photography studios, café areas, performance and rehearsal spaces, computer suites and lecture theatres.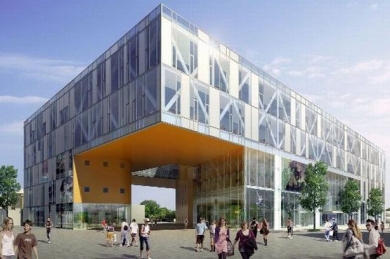 The Gateway Project will open in early 2016 – just a few months after the new student accommodation.
Last year the University spent £9m refurbishing and extending its Chapman Building, and a £1m upgrade of its library services took place during the summer.