Transport Secretary Patrick McLoughlin today granted development consent for the Able Marine Energy Park at North Killingholme to support the North Sea's offshore wind industry.
Hochtief and Morgan Sindall are among several contractors bidding to build the £170m energy park quay front for developer Able UK.
Construction work is now scheduled to start early next year with the 1,289m quay expected to be available from late 2016, in time to support the next wave of Round 3 offshore wind farms.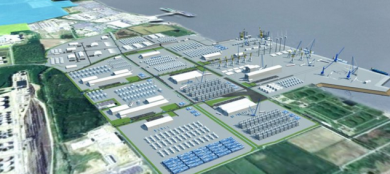 Able UK founder and executive chairman, Peter Stephenson, said: "The potential demand is huge – for instance the three offshore wind areas of Dogger, Bank, Hornsea and Norfolk Bank will require around 5,000 turbines to deliver their full capacity.
He said: "The major international companies needed to know that the UK was serious in its commitment to the future of offshore wind development.
"Today's approval – coupled with the Government's support confirmed in the recent Autumn Statement – is just the message they required and will now enable us to progress negotiations with a range of clients wanting to bring jobs and investment to the Humber.
"This potential was, of course, underlined last month by the news that a major Foundation manufacturer – Strabag – identified the energy park as it's 'preferred location' for it's 500 job European production facility and last week saw the Humber LEP finalise it's City Deal.
"The real work starts now although the land assembly and development process has been underway for some 14 years—investment to date has already been significant and the planning application alone has cost almost £10 million.
He said: "Port developments like this are not for the faint hearted and it has been a long six years haul for all those involved.