According to the latest Markit/CIPS UK Construction Purchasing Managers' Index confidence has improved as commercial work bounced back strongly recording the fastest growth in activity since April 2007.
Residential work remained the fastest growing area of construction, although this was also the only area to post a slower pace of expansion than in November.
Civil engineering activity increased at the same pace as that reported in the previous month.
Construction firms said improving business conditions and greater confidence in the economic outlook had boosted spending among clients during December.
At 62.1 in December, from 62.6 in the previous month, the index was well above the 50.0 value that separates expansion from contraction.
Higher levels of incoming new work have been now recorded in each of the past eight months.
Although the rate of new order growth eased since November, the latest expansion was one of the steepest seen since late-2007.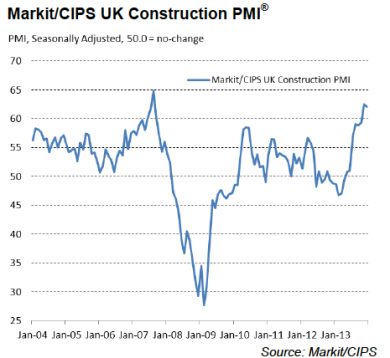 This has boosted confidence about the outlook for business activity during the year ahead.
Of those companies surveyed 57% expected output to increase in the year ahead, compared to just under a third at the start of 2013.
Tim Moore, Senior Economist at Markit said: "The latest survey highlights that construction companies enter 2014 with the wind in their sails.
"Most encouragingly, the improving UK economic outlook is helping boost private sector spending patterns, meaning that the construction recovery has started to broaden out from housing demand and infrastructure projects to include strong growth in commercial building work.
He added: "Stronger growth expectations and fuller order books are continuing to fuel job creation in the construction sector.
"Higher employment numbers have now been reported for seven successive months, and these efforts to meet a sudden turnaround in UK construction demand should help keep staffing levels moving strongly upwards into 2014."
David Noble, Chief Executive Officer at the Chartered Institute of Purchasing & Supply, said: "It is pleasing to see the growth in the sector leading to such significant hiring of staff.
"As construction reported its strongest quarterly performance since Q3 2007 and as levels of new orders continue to rise, job creation is ramping up and has now been increasing for seven consecutive months. This is a good sign that activity will remain strong in the months ahead.
"The natural consequences of the rapid jump in construction activity during 2013 have been the continued squeeze on stocks at supplier level and the lengthening of delivery times. These pressures, alongside increasing business costs, will remain in 2014, but with hopes that they won't prolong."