The Ladder Association's annual competition was inundated with entries from around the world highlighting unsafe practices.
The winner involves two workmen trying to climb a church roof.
One man on the ground holds up one ladder which props up a second one leaning against it at an angle. The other worker is halfway up the second ladder, with only the steep church roof to lean into.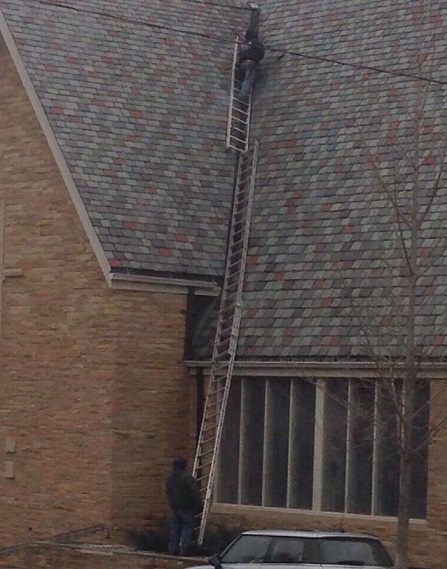 Only divine intervention kept this man safe
Idiots on Ladders was first held in 2012, and runs alongside the Ladder Association's Ladder Exchange scheme which lets people and companies around the UK trade in old ladders for discounts on new ones. Thousands of ladders have been exchanged since the initiative began in 2007.
Ladder Association Chairman Cameron Clow said: "Idiots on Ladders is about shaming bad practice and showing how important training is.
"The number of pictures the public sends in, and the things seen happening in them, is always hard to believe.
"Ladders are a practical and indispensable option in the workplace, but like any other piece of work at height equipment they have to be used safely and competently.
"The Ladder Association's message has always been that if it's right to use a ladder, use the right ladder and get trained to use it safely.
"With falls from height the main cause of death in the UK workplace, the people misusing their equipment in these pictures really are taking their lives in their hands."
The competition is run on the Association's Facebook page, where pictures are sent in by members of the public.
Each year the one with the most Likes is named the biggest Idiot on a Ladder of the year.
Other entries included this stunning shot from Bangkok: