Over the next five months, in a deal worth £5m, the firms will work with Network Rail  drawing up detailed plans for the electrification of the main Glasgow Queen Street-Edinburgh Waverley line.
Network Rail also said it is on target to deliver the electrification of the line by 2016 as planned.
The alliancing deal will allow progress towards awarding contracts for the main civil engineering and electrification work, worth around £250m, later in Summer.
The works will comprise electrification of the main Edinburgh-Glasgow route, via Falkirk High, including route clearance works at Winchburgh Tunnel as well as rail infrastructure works at Glasgow Queen Street and Edinburgh Waverley Stations.
Platforms at Croy, Falkirk High, Polmont and Linlithgow will also be extended.
Transport Minister Keith Brown also revealed that the cost of the  transformation of Queen Street station had more than doubled to around £120m, pushing up the cost of EGIP from £650m to £740m.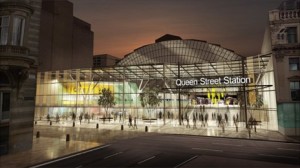 The redevelopment of Queen Street Station has risen in cost from £48m to £120m
David Dickson, Network Rail's acting route managing director for Scotland, said: "The alliancing approach we have announced today will also allow us to work more closely with contractors and stakeholders to plan the project in the most efficient, cost-effective way for passengers and tax-payers alike."
EGIP has already delivered a new £25m station at Haymarket in Edinburgh and completed work at 42 bridges on EGIP routes to create the correct clearances for electrification.
Work to electrify the Glasgow-Cumbernauld line and provide a new station for the town will be completed in summer 2014.