More than three years ago the previous developer Quintain Estates walked away from ambitious plans to deliver 750 new homes, as well as shops and leisure facilities.
The Middlehaven Dock, which includes a former marketing suite, Listed Clock Tower, dock basin and entrance channel to the River Tees, forms a  20ha site.
Under the revival plan being hatched by the HCA and Middlesbrough Borough Council, the private sector development partner would take the freehold and be responsible for all costs involved with the management of the property including repairs and maintenance, insurance, security.
The agency hopes to start a bid race in March, with the aim of starting first building work in Autumn 2015. After that the site would be redeveloped over a period of 15 years.
More details on the webportal,  GO Reference: GO-2014128-PRO-5420083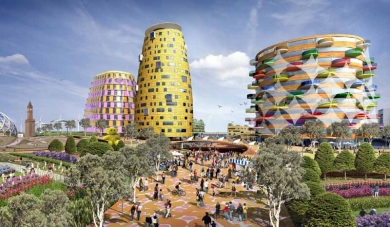 The previous ambitious plan (above) stalled in 2011 after just 80 apartments were completed.