The partners will now start on detailed designs for the £4bn Brent Cross development.
The masterplan to regenerate the area includes 7,500 homes, 4m sq ft of offices, four new parks and a 600,000 sq ft extension to the existing Brent Cross Shopping Centre.
Planning approval for the scheme was first granted in 2010, however the developers have since added a new network of streets and public spaces around Brent Cross shopping centre and a pedestrian and cycle bridge over the North Circular Road to the plans.
Hammerson and Standard Life Investments also revised the time frame for the planned transport improvements to an earlier phase, as well as the controversial development of an area of green space in Cricklewood Lane.
Construction of the first phase which will double the size of the shopping centre in Hendon could get underway before the end of 2015.
These include covering streets and spaces in and around Brent Cross in a transparent canopy to create a protected retail, dining and leisure space.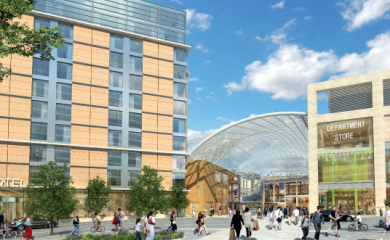 Hammerson will also build a new pedestrian bridge over the North Circular Road (below) and speed up delivery of some of the major transport improvements.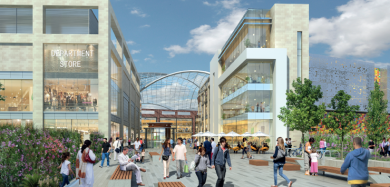 Mike McGuinness, Development Director, Hammerson, said: "Brent Cross Cricklewood will bring a significant amount of investment into Barnet, in the form of new homes, new jobs, school facilities, parks and millions of pounds worth of transport improvements.
"It will also secure the future of Brent Cross, which will become a truly great place to shop, eat, enjoy and spend time, both during the day and into the evening.