The water company has launched a full forensic investigation to find which of several possible contractors working in the Hoxton area is to blame.
Engineers are working on the theory that a piling contractor may have mistakenly pumped concrete into the sewer.
Nearly a year ago at a site just 400m away Derbyshire piling specialist All Foundations pierced the underground rail line running to Moorgate leaving broken augers on the track, causing huge transport disruption.
The latest problem came to light when sewage flooded Wenlock Road, next to a United House social housing project.
A constant tankering operation is now underway to prevent environmental contamination in the area.
Barhale has been called upon to replace the blocked sewer main, which is lying 4m underground, as a matter of urgency.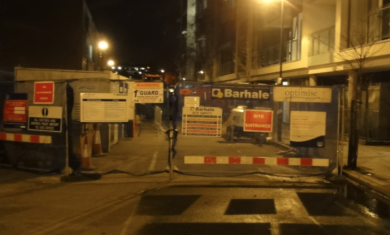 The road is expected to be closed for a month while the pipes are replaced.
A Thames Water spokesman said: "Normally blockages are caused by fat, oil and grease building up in the sewer but unfortunately in this case it's concrete, so we can't just jet it through.
"It's in there and it's set to the pipe, it means we need to remove the pipe and replace it with new ones."
CCTV investigations identified concrete in two sections of the sewer spanning a length of 65m.
The spokesman from Thames Water said the priority was to get the repair fixed. "At the moment we don't know who's responsible for the concrete in the pipe, they only started digging it out this week, once they get it out we will start trying to trace it.
"There are so many contractors in the area, if it was just one it would be straight forward, but we need to examine what's in the pipe."