The city has been close to major flooding five times over the last decade and is about to embark on the country's second biggest alleviation scheme.
This includes installing the UK's first moveable weirs, which can be lowered to reduce river levels
BAM's £2m first phase, involves construction of an embankment, flood walls and storage pond at Woodlesford, should be completed by July.
Planning permission for the major flood defences in the City Centre and Holbeck, including the removal of Knostrop Cut, was recently granted.
Detailed design work is progressing and the design and build contract will be tendered in April through the Environment Agency's asset delivery framework after a bid competition in March.
Asset framework firms
BMM joint venture (BAM Nuttall, Mott MacDonald)
GBV joint venture (Galliford Try, Black & Veatch)
JacksonHyder
JN Bentley, JBA
Team Van Oord
VBA consortium (VolkerStevin, Boskalis Westminster, Atkins)
Main construction work on a 2.2 mile stretch of the river is then expected to begin later this year.
The moveable weirs, which will be installed at Crown Point and Knostrop, consist of a row of steel gate panels supported on their downstream side by inflatable air bladders.
The Leeds Flood Alleviation Scheme will also see an island at Knostrop Cut removed to allow the river and canal to merge to create additional flood water storage.
Low-level flood defences in the city centre and Holbeck are also to be constructed.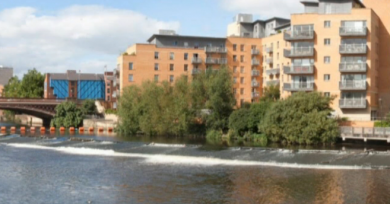 Existing weir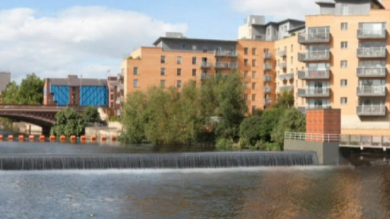 New moveable weir
The Environment Agency previously considered a comprehensive scheme for the River Aire from Newlay Bridge in Kirkstall to Woodlesford using flood defense walls.
This would have provided protection against a flood event that was likely to occur once every 200 years. This scheme was estimated to cost over £190m and was deemed unaffordable.