Rail and concrete sleepers left suspended in mid-air have been cut away and placed across the bottom of the destroyed sea wall as an improvised solution to reinforce the area.
Shipping containers filled with ballast also have been installed to create a makeshift breakwater before the next weather front rolls in.
Network Rail managed to ship in a concrete spraying machine, which was being used to refurbish Whiteball Tunnel in Somerset, to form a temporary barrier to take the brunt of continuing heavy seas.
The most damaged platform at Dawlish station has been demolished and will be rebuilt in the coming weeks.
Around 80m of sea wall has been destroyed by high tides and stormy seas, causing a significant stretch of railway to collapse into the sea.
Network Rail said it has mobilised a range of specialist contractors, engineers and suppliers from across the country to help with the work and believes it can restore rail services within six weeks.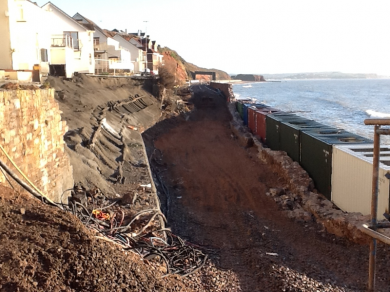 Dawlish failed seawall site after weekend of emergency works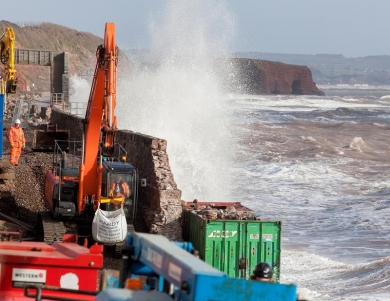 Battling against the elements on Saturday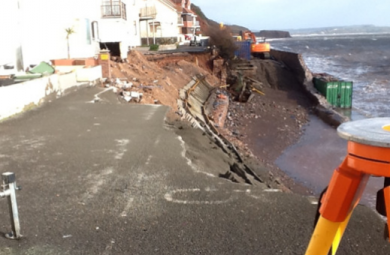 Damaged rail and sleepers used to shore up remaining earth bank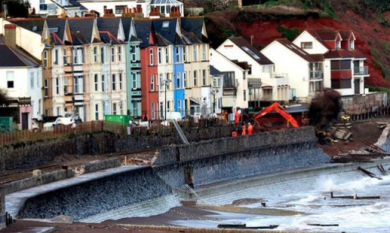 Damage assessment after the storm last week
The main rail route into Devon and Cornwall via Bridgwater remains cut off because problems caused by flooding and storm damage.
Over the weekend floods were blown into waves by the high winds in the area, washing away ballast the track rests on.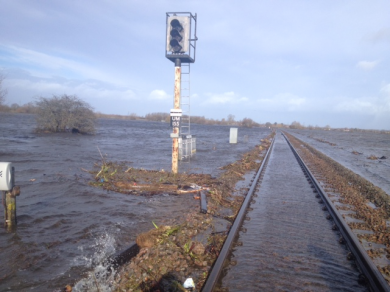 Twin rail tracks submerged in Somerset
Routes from Bridgwater and Castle Cary are still under water caused by the flooded River Parrett and are being monitored by engineers.
Yesterday, communities Secretary Eric Pickles admitted the government made a mistake and should have dredged the flood-hit Somerset Levels.
He said it may have relied too much on Environment Agency advice.