Engineers plan to fit horizontal light diffusing aluminium fins from the third floor to the 34th floor on the south-facing façade.
The 37-storey tower was nicknamed the Walkie Scorchie last summer when the sun's rays reflecting from its distinctive facade melted cars on Fenchurch Street.
Joint development partners Land Securities and Canary Wharf Group have just submitted a planning application to the City of London for the permanent sun light diffusing array.
A spokesman for Land Securities said: "Modelling shows the brise soleil will prevent solar glare by absorbing and diffusing sun light, thus preventing it being reflected from the building."
The fins have been designed by the building's architect Rafael Vinoly Architects alongside solar glare experts Loisos + Ubbelohde.
Once the developer has planning consent, the refit project, expected to cost less than £10m,  should take around 6 months to complete.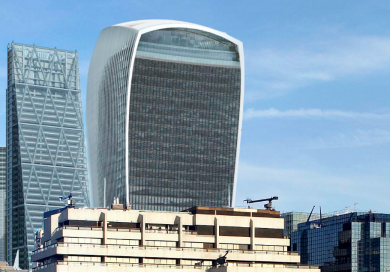 A series of horizontal aluminium fins will be fitted across the southern façade
Handover of the pre-let office floors remains on schedule and the Sky Garden is scheduled to open for business in late 2014 as always planned.
20 Fenchurch Street is currently 64% pre-let with a further 23% in solicitors' hands.