The landmark 360-home scheme, known as the Hoola, is planned by developer HUB Residential and expected to cost around £50m to build.
Designed by CZWG Architects, the 24 and 23-storey towers will be built on a round about site at the entrance to London's Royal Victoria Docks.
The design has maximised internal space for all of the homes, and allowed access to balconies.
Shared facilities will include a residents' lounge, gymnasium, and a business lounge, while the landscaping for the site will incorporate communal gardens and play spaces.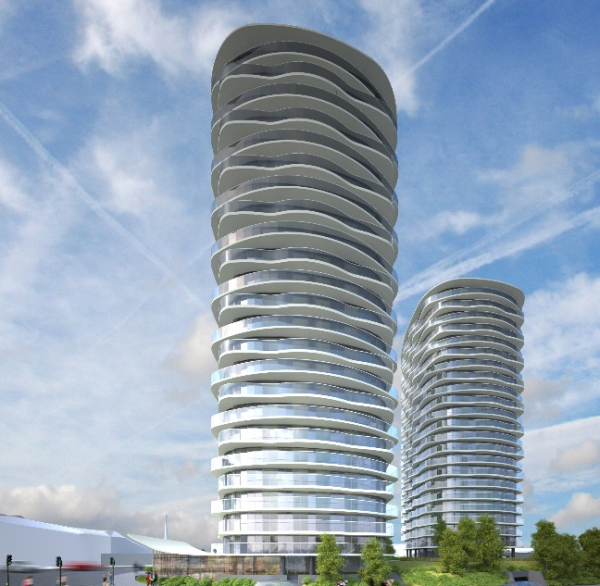 The landscaped 'hill' on which the towers and gardens are based will conceal car parking and cycle spaces.
Carillion was selected as part of their wider growth in the London residential sphere, which saw them chosen for the first phase residential development at Battersea Power Station last year.
HUB Residential was created by Squarestone in early 2012, with a focus on design-led, community orientated mid-market residential development in London.
The developer also received detailed planning permission for its first development in Acton just before Christmas last year.
The plans for the Victoria Square scheme, which rises to 16 storeys at its highest point and contains a number of accessible roof gardens, including allotments and play space, were passed unanimously by the London Borough of Ealing's planning committee.
The development will provide 152 new homes in a community orientated development of one, two and three bedroom apartments, with construction scheduled to begin later this year.
Steve Sanham, development director at HUB Residential, said: "To help support that regeneration, we believe new housing should be customer driven, reflecting both the aspirations and price points of workers in London.
"A new model and standard for home design in the capital needs fresh thinking and ideas at every stage of the process."