The unnamed operator of the 80t all-terrain Demag crane was pulling piles from the ground at a supermarket job in Rotherham.
A sudden shock load is understood to have caused the boom to recoil and bend at a right angle.
Instinctively, the driver managed to slew the crane to a safe area and rest the jib. Nobody was injured in the incident.
Emsley Crane Hire owned the 80t Demag, which had been called in to lift the steel piles at ISG's £18m job to build a Tesco superstore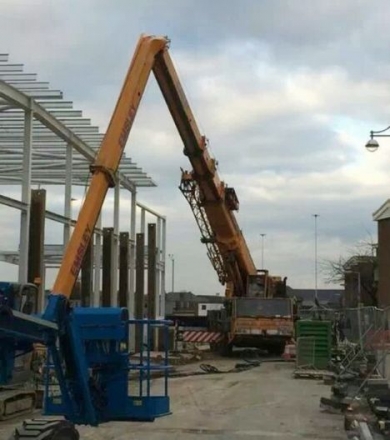 The quick thinking driver ensured nobody was injured in the incident.
Director John Emsley said that the retractable boom sequence had been set in the right configuration, but the boom had received a shock load during the pile extraction.
He said: "The crane driver realised there was a problem and reacted immediately by slewing round to a safe area to rest the jib.
"Our company have immediately stopped this crane operation.
"Unfortunately our crane was retracting piles with a pile extraction hammer under a CPA hire.
"Our crane was given a shock load from the hammer causing the jib failure."
The procedure is more commonly undertaken with a lattice boom crawler crane.