The Jersey-based firm is one of several developers aiming to start a new wave of tower block luxury flat schemes around Canary Wharf on the Isle of Dogs.
Planners at Tower Hamlets have received  a scoping report submission from Investin outlining its proposals to build the 242m high tower, called Quay House, at 2 Admirals Way.
The site currently comprises one five-storey office building constructed during the 1980s.
It is planned this will make way for the  KPF-designed scheme of 505 flats, some of which will be affordable housing, as well as 2,690 sq ft of retail space.
The scheme is set to add urgency to rival developers' plans to get their schemes moving.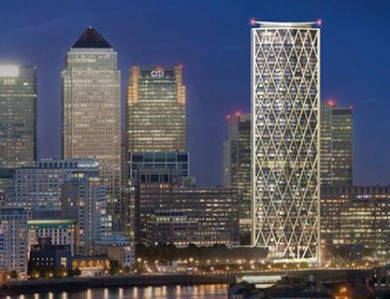 Developer Canary Wharf has lodged plans to build the Diamond Tower (above), a 58-floor luxury apartment block soaring 218m into the sky.
While Berkeley Homes has submitted a scoping report to planners at Tower Hamlets pushing the boundary with plans for an 80-storey main tower, with two other 35-floor and six floor buildings at South Quay Plaza.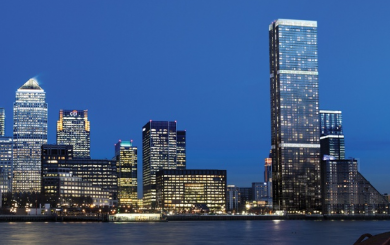 Developer Chalegrove Properties has consent for a 75-floor residential skyscraper (above).
Chalegrove's proposed 239m tower project will be mainly residential with 864 flats and 84 serviced apartments and is planned for the City Pride pub in Westferry Road, which will be demolished to make way for the new tower.
The tallest has been proposed by Irish developer Ryan Corporation. It paid paid £100m for a site on West India Dock Quay, which previously had planning to build a hotel and office scheme, called the Columbus Tower.
The developer aims to build a 74-floor skyscraper on the site, which would be 7m taller than One Canada Square, Canary Wharf's highest office building at 235m.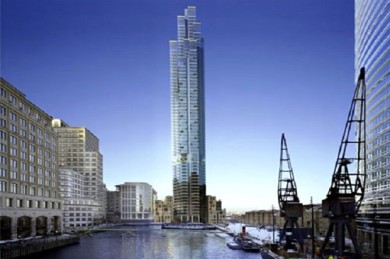 Plans have yet to be submitted.