The 58-storey Diamond Tower takes its name from the repeat pattern of the shell supporting steelwork, which will  soar 218m into the sky.
The London Borough of Tower Hamlets has granted planning permission for the tower and it will be referred to the Mayor of London who is expected to rubber stamp its final approval.
The development marks a new stage in the evolution of Canary Wharf, which first opened in the early 1990s.
It is the first of several major residential tower block schemes to get the green light that are planned around Canary Wharf on the Isle of Dogs.
The tower will include 566 apartments, as well as shops and a health club. Canary Wharf Group plans to begin construction this summer, with completion in 2018.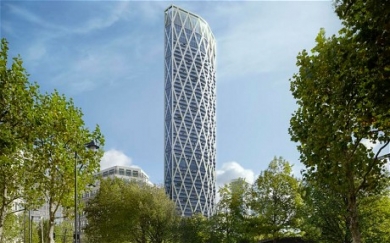 The small floor plate will lead to a slender tower.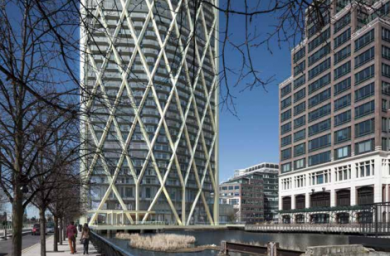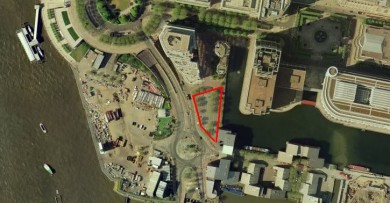 Site location of new tower of 500 luxury flats.
CWG's Chairman & Chief Executive Officer Sir George Iacobescu said: "This means the group will, for the first time, be able to offer residential space within the foot print of the Canary Wharf Estate and adjacent to our 800,000 sq ft of retail and transport modes.
"I firmly believe that Canary Wharf is an attractive place to both work and live thanks to the incredible retail and restaurant offering, and the robust transport links."
Rival tower plans
Berkeley Homes has submitted a scoping report to planners at Tower Hamlets pushing the boundary with plans for an 80-storey main tower, with two other 35-floor and six floor buildings at South Quay Plaza.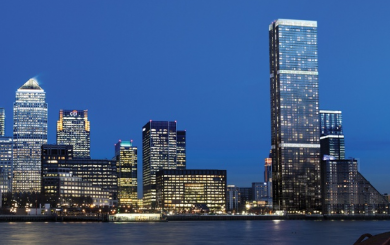 Developer Chalegrove Properties has consent for a 75-floor residential skyscraper (above).
Chalegrove's proposed 239m tower project will be mainly residential with 864 flats and 84 serviced apartments and is planned for the City Pride pub in Westferry Road, which will be demolished to make way for the new tower.
The tallest has been proposed by Irish developer Ryan Corporation. It paid paid £100m for a site on West India Dock Quay, which previously had planning to build a hotel and office scheme, called the Columbus Tower.
The developer aims to build a 74-floor skyscraper on the site, which would be 7m taller than One Canada Square, Canary Wharf's highest office building at 235m.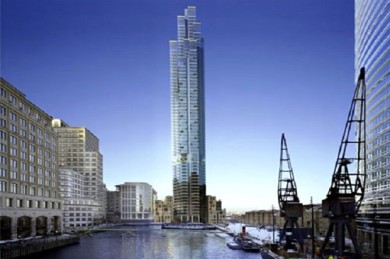 Plans are also expected to be submitted by developer Investin for a 70-storey tower, called Quay House, at 2 Admirals Way (below).