The two projects being fired-up for construction start include a major interlinked office tower complex at Heron Quays West and its first residential high-rise called the Diamond Tower.
David Pritchard, Chairman of Canary Wharf owners Songbird Estates, said: "The board is confident about the immediate prospects for the London real estate market.
"The group's development pipeline is well positioned to take advantage of increasing demand and the prospect of a shortfall in supply of both prime commercial and residential space."
Pritchard said Canary Wharf Group had now taken significant steps to bring major projects in its 11m sq ft London pipeline to fruition.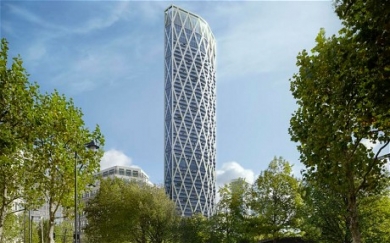 He said utility works were now underway for the Newfoundland residential block, nicknamed the Diamond Tower, after receiving planning consent earlier this month.
The scheme rises to 58 floors and will accommodate 470,000 sq ft of apartments.
Full construction is anticipated to start in mid 2014, subject to concluding a Section 106 agreement.
The Diamond Tower takes its name from the repeat pattern of the shell supporting steelwork, which will soar 218m into the sky.
He added that Canary Wharf Contractors would also be starting enabling works for the eastern side office project at its planned Heron Quay West development site.
He said: "As a reflection of this confidence, the group is starting enabling works for a new building of up to 700,000 sq ft on the eastern section of the Heron Quays West site."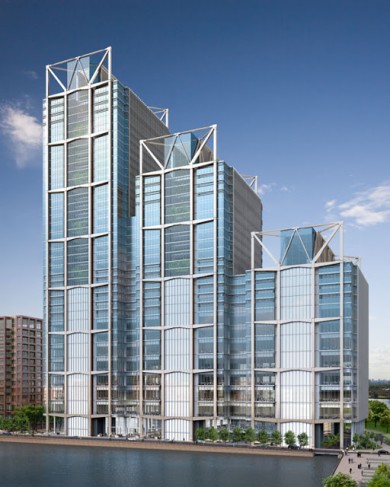 Plans for a 190m office scheme at the Heron Quays West site have been designed by Adamson Associates.
The project to build a complex of 700,000 sq ft gained outline approval last year, with detailed planning consent expected shortly.
Another planning application has also been submitted for a second 700,000 sq ft office development on the western half of Heron Quays West. This is currently being considered by Tower Hamlets Council.
The part 12-storey, part 21-storey and part 33-storey Heron Quays West eastern side project will boast the largest trading floor in Britain.
Separately a revised 650,000 sq ft planning application has also been submitted for One Park Place on West India Avenue, a 31 storey tower on the estate.
Pritchard also confirmed the group would start the first phase of its 4.9m sq ft Wood Wharf project to the east of Canary Wharf by the end of the year.
The first phase will see the construction of 884 residential units in three buildings designed by Herzog & de Meuron and Stanton Williams and two separate office buildings designed by Allies and Morrison.
At around 11m sq ft, including the redevelopment of the Shell Centre on London's South Bank, the group has one of the largest development pipelines of any London developer.