A cloud of black smoke spread across the city after an explosion was heard at 11.40am on Thursday morning at the student block being built by contractor Osborne.
An eyewitness told the Enquirer, the fire seemed to have started at one end of the block in the top floor section of the building.
Several hundred workers were evacuated from the site and watched as firefighters managed to put out the fire at around 1.30pm today.
Jerry Leonard, Group Manager at Hampshire Fire and Rescue Service, said: "Firefighters in breathing apparatus were able to make their way up through the building and using aggressive firefighting were able to quickly extinguish the flames.
"This action prevented any serious structural damage to the building. The damage was confined to the roof area and part of the 16th floor, while the rest of the building was unaffected."
Leonard said workers "were doing some work on the roof of the building and, unfortunately, inadvertently set fire to some of the building material they were using".
He added one explosion was caused by a small propane gas cylinder and the other by a fire extinguisher workers initially used to tackle the blaze.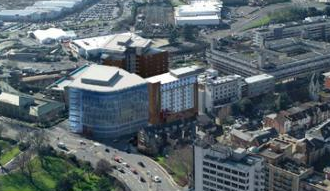 How the finished three phase project will look when completed.
Osborne won the £70m job called the Mayflower Plaza project in 2012. The project involves building three accommodation blocks from 8-16 storeys tall for students from the University of Southampton.
The project is thought to be about four months away from completion.
An Osborne statement said: "A fire broke out around midday on Thursday 3 April at the Mayflower development in Southampton which is being built for the University of Southampton by the Osborne Group. The fire was isolated to the roof of one building (Block B).
"Everyone was evacuated from the 18 storey building (which includes the roof and the basement) in less than 5 minutes and no one was hurt in the incident."