Father-of-two Dainius Rupsys was a Lithuanian national and had worked for main contractor McGee since 2012.
At least one other person was also injured at the residential conversion job being run by McGee.
Rupsys died when a mini-digger fell through the second floor to the first floor of the building at 20 Grosvenor Square.
Declan Sherry, chief executive of McGee said: "Dainius was a popular and valued member of the team and will be missed by us all.
"The incident involved a piece of machinery that was demolishing a concrete floor slab of around 12 sqm when the floor slab gave way and fell to the next level down."
The six-storey building is being redeveloped into luxury flats as part of a £250m renovation. It was originally built as residential accommodation in the 1930s and has been vacant since 2007.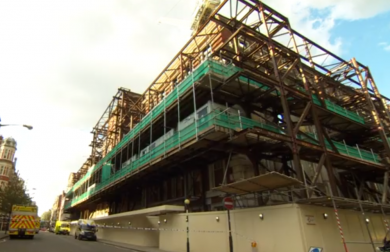 The scheme involves the demolition of the building and redevelopment of 31 flats behind retained facades on Grosvenor Square, the principal facades on North Audley Street and part of Providence Court.
A police spokesman said: "Police were called at 3.45pm today to a building site on Grosvenor Square.
"A man, believed to be in his early 30s, who was working on the site was pronounced dead at the scene. At least one other person has been injured."