Askam was main contractor for Persimmon Homes on its Ainscough Mill site in Burscough where fire ripped through the 56-apartment complex last month.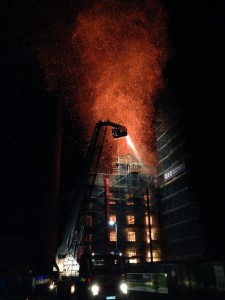 Fire ripping through the listed building
Mark Cook, managing director of Persimmon Homes Lancashire, said: "We are extremely disappointed to learn that Askam Construction has gone into administration and our thoughts are with the company's employees at this worrying time.
"We have immediately begun to put a plan together to find an alternative contractor for the design and build of our redevelopment project at Ainscough Mill in Burscough.
"Our employer's agent is contacting a number of parties – including those that originally tendered for the contract – and we are committed to resuming work on this development as quickly as possible."
The Enquirer has been contacted by a number of suppliers owed cash by Askam which also worked on the new Coronation Street set for Mace.
It is understood that Askam's civil engineering division is still trading but calls to the construction arm's head office go straight to voicemail.
One supplier said: "We have been chasing our money for a while but were suddenly told last last week that the company was in financial trouble and we wouldn't be getting paid."
Another added: "It looks like I'll get stiffed for what I'm owed by the construction arm but it seems like the civil engineering side is still trading."
Askam employed more than 100 people.
Its website states: "We pride ourselves on our low turnover of staff. We employ over 100 people with whom 50% have over 5 years service, which emphasises the dedication of our staff to the Company."