The largest project to build a new £165m Papworth Hospital has just won Treasury backing to be built at the medical and science park next to the city's Addenbrooke's Hospital.
The 310-bed new hospital is to be delivered by preferred bidder Skanska Construction as part of a 30-year PFI deal.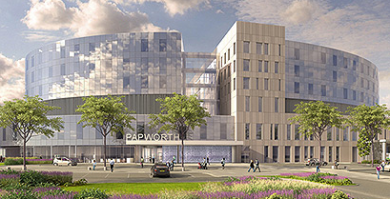 Construction of the new specialist heart and lung hospital is projected to begin in 2015 and complete by 2017 to 2018.
The plans for this project will be finalised over the coming months, with all funding subject to final approvals.
The go-ahead comes in the same week as Cambridge City Council granted planning to allow building to start on a £120m private hospital-led, mixed-use scheme also at the Addenbrooke site.
Laing O'Rourke will build the 360,000 sq ft facility known as The Forum, fabricating much of the structure and building services off-site.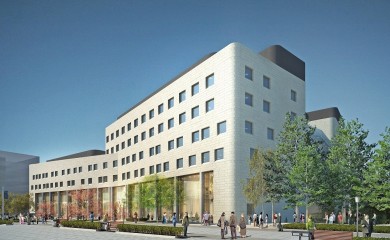 Designed by architecture practice NBBJ, the scheme will comprise a new post-graduate medical education centre, a 75-bed private hospital for Ramsey Healthcare and a 200-bed Crown Plaza hotel and conference centre.
Under the innovative deal John Laing will arrange the finance with no public cash spent on the project, making it the first major project of its kind in the NHS.
Cambridge University Hospitals will receive an annual income and a share of the profits over the life of the contract.
Peter Ward, Director of Healthcare Projects at John Laing and partner in Forum Cambridge LLP, said: "By co-locating, co-operating and sharing resources and expertise, all the parts of the development will come together in a 'Forum' where leading clinicians and academics work together to set new standards of excellence and innovation in healthcare. "