Old buildings will be demolished to clear the way for new facilities.
The largest project will see over £20m spent on construction of a new cancer centre. This should be completed by 2017 (below).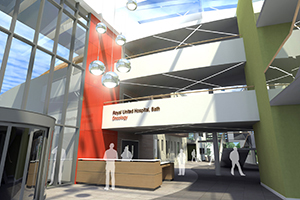 Other improvements include a new pharmacy building and integrated therapies unit.
Kier Construction recently completed a two-storey new medical record and IT centre at the Lower Weston site.
James Scott, chief executive, said: "We now have an exciting five-year plan firmly in place which will help us to build upon our reputation for the highest quality care.
"In addition to the money the Trust itself has set aside for these exciting developments, we are also immensely grateful for the contributions being made by members of the public to The Forever Friends Appeal's Cancer Care Campaign that is raising £8.5m towards the new Centre."
Howard Jones, Director of Estates and Facilities, added: "The investment will not only cover the costs of the new Cancer Centre, it will also enable us to make a considerable investment in medical equipment, IT infrastructure and extensive re-development of the whole site."