The project, known as the Marischal Square development, will transform one of the key locations in Aberdeen city centre and create 300 construction jobs
Demolition of the St Nicholas House site is underway to make way for new offices, shops, a hotel and major public square.
Aviva Investors is fully funding the project, which will see the vacant site handed over to Muse later this year ahead of the scheme being completed in 2017.
Marischal Square plans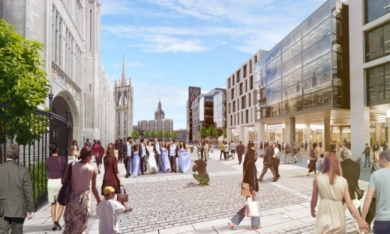 • 175,000 sq ft of offices with 250 associated car spaces
• 125-bed four-star hotel
• 14,500 sq ft of civic space in front of  Provost Skene's House
• 42,900 sq ft  of civic space on Broad Street between Marischal College and the Marischal Square site
• Full pedestrianisation part of Broad Street
• A mixture of granite and glass in the elevations
Muse's regional director for Scotland, Steve Turner, said: "This is obviously an important stage for the project and we are delighted to be in a position to submit a planning application which we believe has the potential to make a long-term positive impact on the economy in Aberdeen."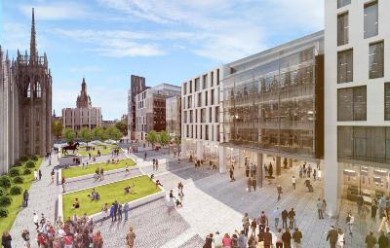 The Marischal Square funding agreement with Aviva Investors will see Aberdeen City Council lease the development and receive the rental profits for 35 years, after which time the site and development will transfer into Council ownership. Muse and Aviva Investors were advised throughout by CBRE.