Westminster Council awarded planning yesterday for the Squire and partners designed blocks of 74 luxury apartments.
Each building rises six storeys to the "shoulder" with  a two storey penthouse set back from the building line of  the lower floors, helping to reduce the impact of the 8 storey block.
Contractor Keltbray is currently on 13 acres site finishing site enabling works after completing most of the demolition work. The first site cabins are due to be erected this month. Work will also start soon on a piled secant wall, expected to run for 12 months.
Key consultants on the residential job are Arup, covering structural design and Atelier Ten, mechanical and electrical design. E C Harris is cost consultant.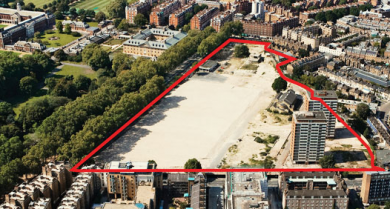 The Chelsea Bridge Road project first proposed by luxury apartment developer Christian Candy in partnership with Qatari Diar  has been mired in delays since an initial proposal was criticised by the Prince of Wales.
As  a result the development company, Project Blue Limited, went back to the drawing board to completely redesign the scheme two years ago.
The new site masterplan will see around 448 homes in blocks up to eight storeys high with 5 acres of public space.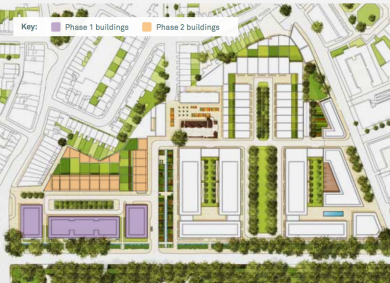 First phase of Chelsea Barracks scheme marked in purple.
Qatari Diar bought the MoD site for close to £1bn eight years ago, making it Britain's most expensive residential development.
London mayor Boris Johnson supported the proposals, saying: "I am pleased that Westminster City Council has granted permission for the redevelopment of Chelsea Barracks. This scheme will create new homes and jobs for the capital."