Telford Homes said it had pre-sold 148 homes within four weeks following a UK-only sales launch of the project held prior to similar events overseas.
Jon Di-Stefano, chief executive of Telford Homes, illustrated how buoyant the London market has become as he reported annual pre-tax profits more than doubled to £19.2m.
He said: "London has one of the strongest and most robust property markets in the world and Telford Homes is operating in the right locations within that market where the group's customers both want to live and can afford to live.
"Sales are being achieved at increasing prices and the group is reporting significantly higher margins and profits with considerable levels of forward sales already achieved for the year to 31 March 2015 and beyond."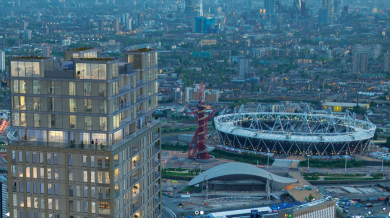 Stratford Central, or Angel Lane as the site is also known, is expected to be completed in the year to 31 March 2018. The deals mean the group has now secured forward sales four financial years ahead for the first time.
He added: "There were also a number of customers who missed out on the apartment they wanted and are now waiting to buy at subsequent Telford Homes' launches.
Telford Homes is predominantly developing in up and coming inner London locations outside of the increasingly expensive prime central London market.
A strong presence in East London is now complemented by several new areas with the board's strategy being to consider any site that is well connected to the heart of the city.
As well as acquiring two significant sites in Stratford to develop over 500 homes between them it now boasts sites spread across Tower Hamlets, Hackney, Islington, Lambeth, Camden, Barnet and Southwark.