According to fresh figures from industry analysts Glenigan the value of projects starting on site from March to June is 20% higher than a year ago.
The growth spurt was fuelled by non-residential and infrastructure work.
It comes after reports from the Confederation of British Industry that the economy is growing at its fastest pace since its records began in 2003.
Industrial, office, hotel and leisure sectors all saw healthy improvements in the value of starts, lifting the non-residential index by 24% compared to last year.
Underlying civil engineering starts have also expanded rapidly, rising by 38% in the latest period.
House builders continued to open up sites with the value of private housing starts up by a fifth.
This means the industry has now enjoyed 14 consecutive months of rising private housing starts.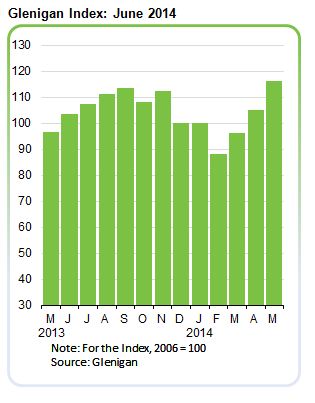 Allan Wilén, Economics Director at Glenigan, said that construction growth had slowed in the first quarter of 2014 with a modest 1% rise in the value of starts.
"The latest figures show a renewed expansion in the underlying value of starts.
"A renewed strengthening of non-residential work is the most significant driver of the high 20% increase recorded in our latest Index, though the underlying value of project starts also increased across the housing and infrastructure sectors."
This widespread growth across the industry was reflected in a buoyant regional picture.
With the exception of Yorkshire and the Humber, where starts were flat on a year ago, every other part of the country saw an uplift in activity.
Strong growth in the East of England was sustained into the three months to May, buoyed by civil engineering work.
Scotland and North East England also saw marked improvements relative to a year earlier.