The 170m tall Brighton i360 is designed, engineered, manufactured and promoted by the team responsible for the London Eye.
West Sussex civil engineering contractor Mackley is believed to have secured the main civils package on the ambitious project.
This will include pouring a 3m deep gravity base, 25m square to anchor the steel mast of the new observation tower.
Dutch steelwork specialist Hollandia has already prefabricated the tapering steel sections of the tower, known by the team as cans.
It is now in final price negotiations around the cost of welding flanges to the cans and erection.
Hollandia plans to build the mast at ground level, jacking each welded steel can into the air to slot the next section below, similar to a climbing tower crane.
The doughnut-shaped main observation pod will be built by French cable-car specialist POMA, which delivered the London Eye pods.
The structure will be built on the old West Pier site, with the remaining end of the structure being left in the sea. Work removing on the iron pier columns on the beach has just started.
This will clear the way for construction to start this summer although the project promoters have yet to set a formal date.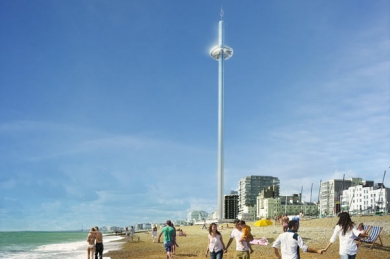 Dr John Roberts, Director of Operations for Jacobs UK, designed the Brighton i360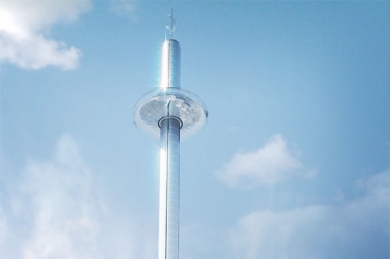 Water tanks will be installed at the top of the mast to dampen vibration and movement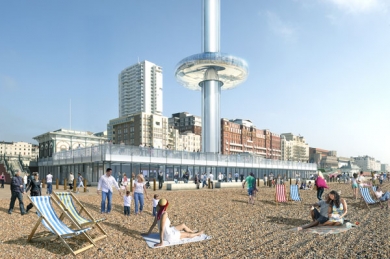 During its 20-minute ride, the pod will rise gradually to a height of 141m before descending to the lower promenade.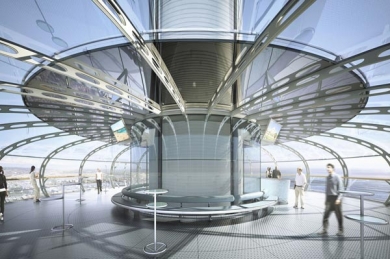 French manufacturer POMA will deliver the viewing pod for what is in effect a giant vertical cable car, hoisted on steel cables.