A court has heard that a member of the public was so concerned about an imminent fall they captured the work on camera and sent the images to the Health and Safety Executive.
Clerkenwell-based JOS Scaffolding was prosecuted on the strength of the photographic evidence and a subsequent HSE investigation into safety failings.
Westminster Magistrates Court heard the firm was responsible for erecting a five-storey scaffold rising 10m above street level.
Pictures showed workers using unsecure and precariously balanced boards to access and pass materials to higher levels.
They also showed a worker sitting near the top of the structure casually dangling his legs over the side.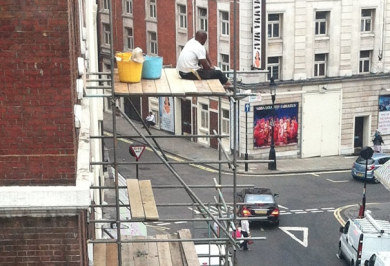 Magistrates were told there was nothing in place at this point of the work to safeguard against falling equipment or materials putting anyone walking underneath at risk.
HSE established the work was poorly planned and managed, and that two of the three-man team erecting the scaffold were lacking training and accreditation to prove their competence.
JOS Scaffolding was fined £5,000 after pleading guilty to safety breaches.
HSE Inspector Andrew Verrall-Withers said: "Scaffolding work is fraught with risk and can be extremely dangerous if it isn't carried out properly.
"The standards here were sorely lacking and the photographic evidence speaks for itself in terms of the risks taken.
"None of the missing measures, such as guard rails and secured boards and ladders, were difficult to provide, and there was no excuse."