Ministers today announced £7.5m of Government funding to support Sir Ben Ainslie's America's Cup team and their proposal for a 30,000 sq ft team HQ and visitor centre in Portsmouth.
The news follows on from Portsmouth City Council's decision to give planning approval for the site of the new base.
Olympic sailor Sir Ben Ainslie is leading the plan to build a new facility for his racing team at Camber Docks.
This would bring sailing's equivalent of 'Formula 1' racing to the region.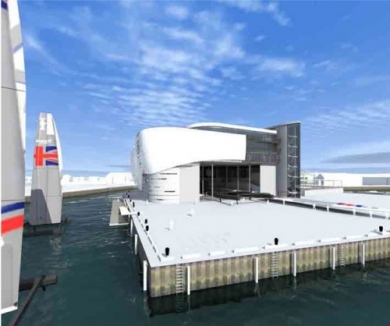 Capita executive director Jonathan Goring will be responsible for the project at Ben Ainslie Racing.
He will run a completely separate team and budget to ensure that the base construction has no impact on the crucial drive to win the America's Cup in 2017.
Goring was  involved in the London 2012 Olympics, and CEO of Capita's successful consortium that was selected to run the Defence Infrastructure Organisation.
The team developing the base includes HGP Architects; Allied Developments (Main Contractor); Reuby and Stagg (Structural Engineers) and Couch Perry Wilkes (Environmental Consultants).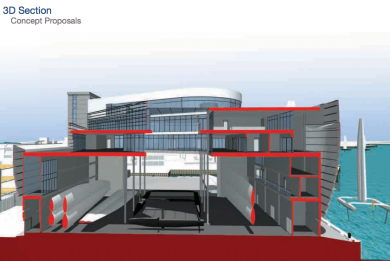 The 27m tall building will house design and technology facilities, boat-building, testing and maintenance functions; team and fitness facilities; and commercial, communications and HR functions.
The building has curved corners and the translucent membrane walls themselves are gently curved above a vertical ground floor plinth.
The team plan to complete construction work in Portsmouth by May 2015.