GB Building Solutions is believed to have secured the landmark job, designed by architects BDP and Leach Rhodes Walker, under a contract worth as much as £40m.
The hotel will adjoin a new two-storey Executive Education Centre, which will provide a new home for the business school's corporate management programmes.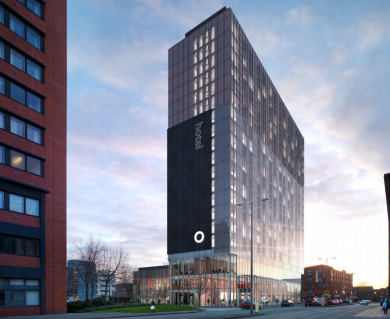 The Manchester office of Sweett is cost consultant for the development, which forms part of the University's £1bn Campus Masterplan.
Chris Roberts, Bruntwood Development Director, said: "The hotel and adjoining Executive Education Centre will be a landmark development for the Corridor and a great addition to the amenities of the city's tourism and business offer."
Neil Maxwell, CEO of M&L Hospitality, added: "We are always exploring investment opportunities that have the potential to deliver stable and attractive returns. This hotel will be a valuable campus amenity for MBS, the University and other nearby facilities, such as the Central Manchester University Hospitals, the Manchester Science Park and the many cultural assets and arts venues along the Corridor."
Cycas Hospitality will operate the hotel. Director John Wagner said: "The hotel will offer maximum choice for guests and cost-effective operating efficiencies for our partners."