The new E17, E19 and E20 compact excavators come with more roomy excavator cabs with larger windows and narrow pillars to maximise all-around visibility.
Bobcat says the high performance excavators provide class-leading breakout forces and smooth hydraulics for precise control of fine tasks
The new models are towable on trailers for up to 2000 kg, and come with better tie-down points.
An expandable undercarriage, automatic slew brake and advanced diagnostics and instrumentation are standard features on all three excavators.
The new E20 2 tonne model is a zero housing swing excavator even with a full-sized cab.
The excavators have a new control panel that ensures all parameters can be checked quickly and easily in a single viewing, including standard readouts such as the fuel gauge and RPM meter but also auto engine shut-down; auto glow plugs countdown; auto cab lights switch-off and audible alarm (in case of malfunction).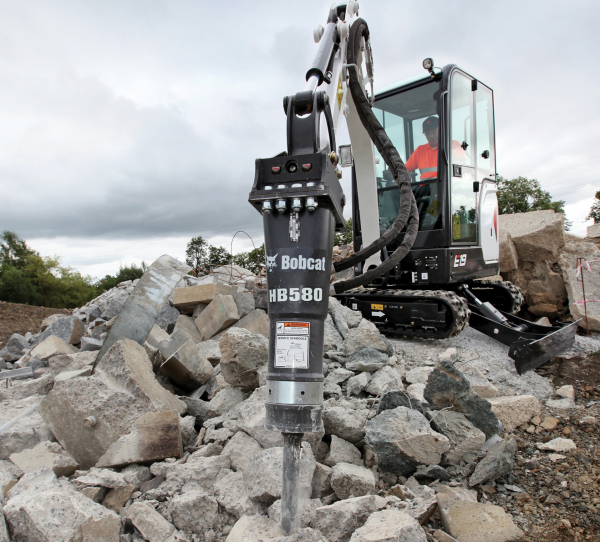 Brief specifications for the E17 compact excavator
Operating weight with canopy, rubber tracks, std dipper stick and bucket:  1711 kg
Operating weight with cab, rubber tracks, long blade and bucket:  1816 kg
Maximum digging depth: 2249 mm
Maximum dump height: 2370 mm
Maximum reach at ground level: 3871 mm
Maximum travel speed:    low range – 2.0 km/h; high range – 3.2 km/h (optional)
Auxiliary hydraulic flow:  32.5 l/min
Undercarriage width (retracted/expanded): 980/1360 mm
Engine:                      Kubota D722 diesel engine delivering 9.9 kW at 2500 RPM (ISO 9249)
Overall dimensions: 2299 mm high x 980 mm wide x 3665 mm long in transport position
Brief specifications for the E19 compact excavator
Operating weight with canopy, rubber tracks, std dipper stick and bucket:    1781 kg
Operating weight with cab, rubber tracks, long dipper stick and bucket:   1900 kg
Maximum digging depth (std arm/long arm): 2385/2565 mm
Maximum dump height (std arm/long arm): 2566/2693 mm
Maximum reach at ground level (std arm/long arm): 4039/4214 mm
Maximum travel speed:      low range – 2.5 km/h; high range – 4.0 km/h
Auxiliary hydraulic flow:        30 l/min
Undercarriage width (retracted/expanded):   980/1360 mm
Engine: Kubota D722 diesel engine delivering 9.9 kW at 2500 RPM (ISO 9249)
Overall dimensions: 2299 mm high x 980 mm wide x 3831 mm long in transport position
Brief specifications for the E20 compact excavator
Operating weight with canopy, rubber tracks, std dipper stick and bucket:  1930 kg
Operating weight with cab, rubber tracks, long dipper stick and bucket: 2034 kg
Maximum digging depth (std arm/long arm): 2385/2565 mm
Maximum dump height (std arm/long arm): 2566/2693 mm
Maximum reach at ground level (std arm/long arm): 4089/4264 mm
Maximum travel speed:     low range – 2.5 km/h; high range – 4.0 km/h
Auxiliary hydraulic flow       30 l/min
Undercarriage width (retracted/expanded):  980/1360 mm
Engine: Kubota D722 diesel engine delivering 9.9 kW at 2500 RPM (ISO 9249)
Overall dimensions: 2297 mm high x 980 mm wide x 3688 mm long in transport position