The pairing will rebuild the Alexandra Dock paving the way for Siemens to build an offshore wind farm assembly facility.
Siemens is committing £160m to the scheme with Associated British Ports investing a further £150m. The cash will be spent on the new port facility in Alexandra Dock and in a new rotor blade manufacturing facility in Paull.
A three-year building programme at the port will involve construction of a 600m long quay on the River Humber, reclaiming 8 hectares of foreshore and dredging 62m wide and 11m deep berths.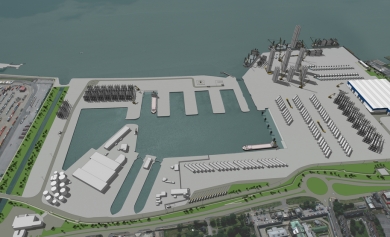 The port scheme gained full planning in September, allowing preparation work to get underway later this month.
Another part of the project will also involve refurbishing several existing buildings and constructing a new 23m high shed, in a separate work package worth around £10m.
Up to 300 jobs will be created during construction, with the manufacturing and assembly plant eventually employing 700 highly skilled engineering workers.